H2O Survival™ Water Filter Travel Straw MAX & H2OLIFEGUARD. Both are the Worlds highest capacity Water Purifier Travel Straw. With a maximum filter capacity to purify up to 530 Gallons of  Water

Bacteria, Heavy Metals & Viruses Utilizing an Exclusive Purification System of 0.01 micron Membrane/GAC and Poly-Iodine. Now with a removable screw-on adapter and neoprene/plastic water bag!



*

The Travel MAX

& H2OLIFEGUARD

represents the much requested upgrade to our mini pocket-sized  Water Filter Travel Straw for those that
wanted more capacity.



11 SEPARATE WATER PURIFICATION FILTERS BETWEEN YOU AND YOUR WATER SOURCE.

530 Gallon/2000 Liter capacity.  *Designed for World Travel. Excellent filter protection  for suspect water on Cruises,Expeditions and Excursions into Foreign Towns.*Exclusive Hi-Density Filter System utilizing 0.01 micron Membrane/GAC and MIR Poly-Iodine Technology. * Can also be used for camping/hiking/fishing/hunting/outdoor expeditions any where fresh water is available.

WATER FILTER STRAW IS COMPACT

:ONLY 6.5" LONG X.75 WIDE. Dark Blue & Red to be Highly Visible & Fits in any pocket, purse or backpack and is much easier to carry than a water filter bottle. Features attached closable top and bottom end caps to prevent after-use dripping and outside contamination during storage.
THE NET RESULT: 99.9999% CRYSTAL CLEAR,BACTERIA,HEAVY METAL,VIRUS & ODOR FREE WATER,

 from ANY WATER SOURCE in the WORLD! Drink Foreign Water with confidence! Camp & Travel ANYWHERE and know that the TRAVEL MAX  Water Filter Straw has your back!
PROTECT YOUR SELF FROM BAD WATER CONTAMINATION.

While many foreign inhabitants can tolerate their own water supply. A Travelers body is not accustomed to their foreign water and may not tolerate it well. This is your SOLUTION.
PROTECT YOUR FAMILY & FELLOW TRAVELERS:

Pick-up several Travel MAX Water Purification Straw's for you and others before you travel to places where the water may be unsafe. Don't be Scared. Be Prepared! Note:Contains Iodine, Best not used by those that are pregnant or allergic to Iodine.
As makers of the H20 Survival Gear. We are always thrilled when our customers like Chris from Skills2Survive & Peter von Panda takes the time to really put our products to the test in real conditions. In this video both guys show some of the huge improvements we have made to our most popular water filter straw products:  The H2o Survival Water filter Straw MAX & H2OLifeguard. Chris also tests out our versatile & dependable CampSport 3030 water filter bottle. Check out both videos!
CERTAIN CONTENT THAT APPEARS ON THIS SITE COMES FROM AMAZON SERVICES LLC. THIS CONTENT IS PROVIDED 'AS IS' AND IS SUBJECT TO CHANGE OR REMOVAL AT ANY TIME.
Product Description
The H2O Survival™ TRAVEL MAX World Travel Water Filter Straw & H2OLIFEGUARD has been vastly improved with our new removable adapter that will allow you to snugly slide the adapter onto the end of your straw which enables you to screw the straw directly on to our collapsible portable neoprene sleeved BPA free plastic water bag and most Coke, soda, seltzer,water bottles and portable water bags in an instant.
You can also use your straw with or without the adapter, as you may want to use your straw in a glass or small mouth bottle. By taking off the adapter it will also allow the end caps to be snapped shut for storage.
Water proof sleeve features handy storage pocket for your straw, keys,adapter, pocket knife, or any small item you need to carry.
Sleeved bag fits easily in your back pocket or can conveniently be clipped to, or stored in your backpack.
Designed for Camping/Hiking/Disaster Relief/World Travel to go with you anywhere that local water may be suspect. Both straws are very compact and smartly colored to make it easy to find in your backpack. These straw are extremely effective and have proven themselves time and time again under the worst conditions.

Filtration Specifications
• 11 separate purification filters between you and your water source.
• Bottom sediment grate to prevent sediment from clogging your straw.
• 530 gallon/2000 Liter capacity
• 6.5" long X .75"wide. Fits in any pocket, purse or backpack. (Add 1" with adapter attached)
• Attached closable top and bottom end caps prevent after use dripping and outside contamination during storage.
99.9999% Combined Filtration Process:
•

1st 5 filtration chambers

are made up of activated carbon, PP fibers and a sediment inhibiting plastic filter grate & MIR High Iodine bactericidal resin, designed to sterilize 99.99% ecoli,staphloccoccus aureus,salmonella typhi,cholorea and legionella bacteria.
•

Next 4 filtration chambers

consist of 2 PP fiber layers, an activated carbon layer and a coconut granule active carbon layer to remove poisonous substances,odors,residual Iodine and will ultimately improve the taste of the water.
•

The last 3 filtration chambers

closest to your mouth are made up of more PP fiber filters, followed by a Hydrophilic High Precision ultra-filtration membrane with an amazing microscopic pore size of 0.01 microns. Compare to our competitors that may lack this technology. Our exclusive high density membrane ensures you that 99.9999% of the nasties will been caught before ever reaching your body.
(SEE TRAVEL MAX &

H2OLIFEGUARD

SCHEMATICS BREAKDOWN BELOW)
H2O Survival Water filter straws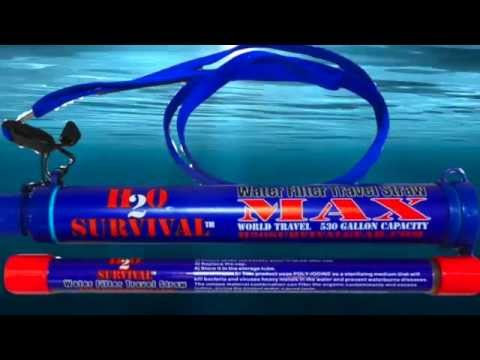 THE H2O™ SURVIVAL STRAWS MAX & H20LIFEGUARD TEST RESULTS: