H2O Survival™ H2OLIFEGUARD-World Travel Camping Water Purifier Straw. Hi Capacity 530 Gallon Water Filter Straw that can filter out Bacteria, Heavy Metals & Viruses Utilizing an Exclusive Purification System of 0.01 micron Membrane/GAC and Poly-Iodine.
11 SEPARATE WATER PURIFICATION FILTERS BETWEEN YOU AND YOUR WATER SOURCE.

530 Gallon/2000 Liter capacity. Ideal for Hiking/Camping/Disaster Relief/World Travel and Excursions into Foreign Towns.*Exclusive Hi-Density Filter System utilizing 0.01 micron Membrane/GAC and MIR Poly-Iodine Technology.
WATER FILTER STRAW IS COMPACT

:ONLY 6.5" LONG X.75 WIDE. Bright RED to be Highly Visible & Fits in any pocket, purse or backpack and is much easier to carry than a water filter bottle. Features attached closable top and bottom end caps to prevent after-use dripping and outside contamination during storage.
THE NET RESULT: 99.9999% CRYSTAL CLEAR,BACTERIA,HEAVY METAL,VIRUS & ODOR FREE WATER,

from ANY WATER SOURCE in the WORLD! Drink Foreign Water with confidence! Camp & Travel ANYWHERE and know that the H2OLIFEGUARD Water Purifier Straw has your back!
PROTECT YOUR SELF FROM BAD WATER CONTAMINATION.

While many foreign inhabitants can tolerate their own water supply. A Travelers body is not accustomed to their foreign water and may not tolerate it well. This is your SOLUTION.
PROTECT YOUR FAMILY & FELLOW TRAVELERS:

Pick-up several H2OLIFEGUARD Water Purfication Straw's for you and others before you travel to places where the water may be unsafe. Don't be Scared. Be Prepared! Note:Contains Iodine, Best not used by those that are pregnant or allergic to Iodine.
Product Description
H2O Survival™ is pleased to introduce:The H2OLIFEGUARD World Travel Water Purifier Straw to our successful line of filtration products.
Designed for Camping/Hiking/Disaster Relief/World Travel to go with you anywhere that local water may be suspect. It's bright red body is compact and easy to find in your backpack. This straw is extremely effective (and is the sister straw to our Water Filter Travel Straw MAX).
Filtration Specifications
• 11 separate purification filters between you and your water source.
• Bottom sediment grate to prevent sediment from clogging your straw.
• 530 gallon/2000 Liter capacity
• 6.5" long X .75"wide. Fits in any pocket, purse or backpack.
• Attached closable top and bottom end caps prevent after use dripping and outside contamination during storage.
99.9999% Combined Filtration Process:
• 1st 5 filtration chambers are made up of activated carbon, PP fibers and a sediment inhibiting plastic filter grate & MIR High Iodine bactericidal resin, designed to sterilize 99.99% ecoli,staphloccoccus aureus,salmonella typhi,cholorea and legionella bacteria.
• Next 4 filtration chambers consist of 2 PP fiber layers, an activated carbon layer and a coconut granule active carbon layer to remove poisonous substances,odors,residual Iodine and will ultimately improve the taste of the water.
• The last 2 filtration chambers closest to your mouth are made up of more PP fiber filters, followed by a Hydrophilic High Precision ultra-filtration membrane with an amazing microscopic pore size of 0.01 microns. Compare to our competitors that may lack this technology. Our exclusive high density membrane ensures you that 99.9999% of the nasties will been caught before ever reaching your body.
(SEE H2OLIFEGUARD SCHEMATIC BREAKDOWN BELOW)
H2O Survival Straw & H2OLifeguard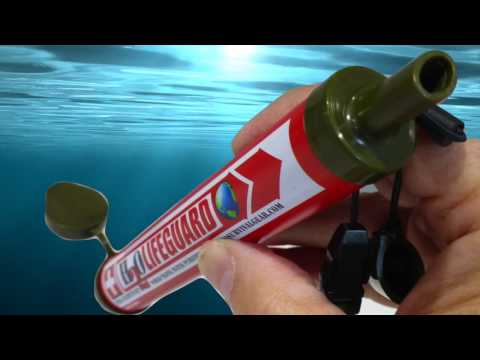 Reviver Music's Country Recording Artist: Lucas Hoge showing our Troops the benefits of the The H2O Survival Water Filter Travel Straw MAX & H2OLifeguard, while entertaining our US Troops in Iraq during the Wrangler National Patriot Tour.